I have worked with a wide range of clients on many types of written material, including novels for publishers and self-publishing authors, roleplaying game material, websites, blog posts, magazine articles and more. Please find a flavour of my work below.
---
RPG (Roleplaying game) editing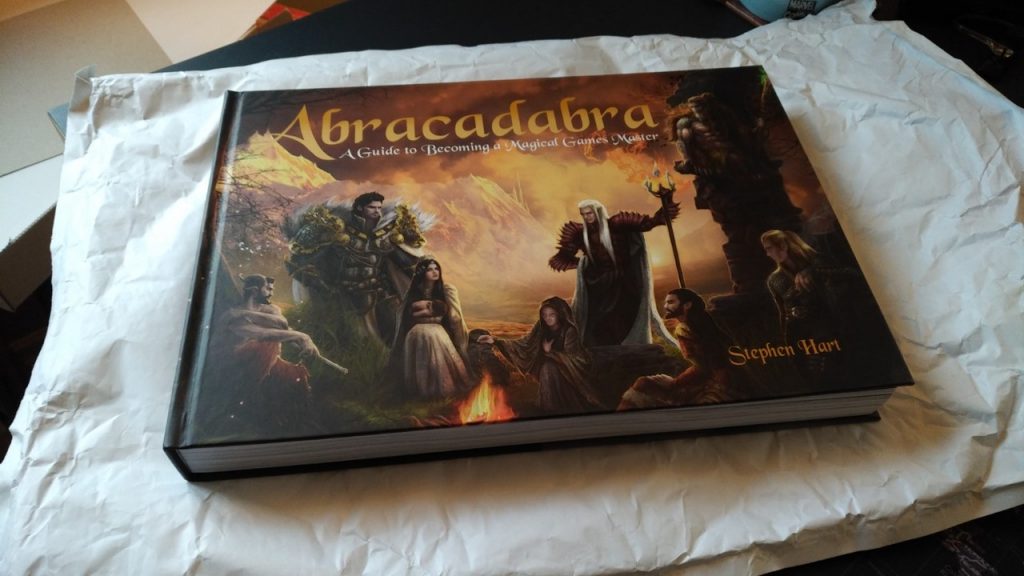 I am delighted to work with the fabulous Stephen Hart, aka The Grinning Frog at www.thegrinningfrog.com, providing line and copy-editing services for his roleplaying game publications. This has involved discussion about issues such as the merits of adhering to terminology and layouts familiar to the reader, the ways in which punctuation and grammar can change the meaning or tone of the writing, and the importance of consistency. I have been building a style sheet so that we can carry our decisions through to future publications.
The publications I have worked on include Abracadabra: A Guide to Becoming a Magical Games Master, for which Stephen won a Judges' Spotlight Award at the ENNIE awards in 2021.
---
Testimonials
"I thought I had a good eye for detail until I used Jane's services! Jane has proofread a range of texts for me including lengthy blog posts, magazine articles and even job applications. In particular, I was impressed by her ability to spot inconsistencies in style and tense that had passed me by. I wouldn't hesitate to use her again."
A.W.
"I have had the pleasure of working with Jane for the past three years and her editorial services have been invaluable. As a writer and scriptwriter I have written several scripts of varying styles and lengths and one novel. Jane has professionally copy-edited and proofread each one, returning them (sometimes to very tight deadlines) annotated with corrections and suggestions, all clearly marked and explained. Jane is diligent and hard working and has a great eye for detail. She will sometimes challenge my work and offer alternative ideas which I hadn't thought of. I will continue to use Jane's services and skills in the future and I have no hesitation in recommending her to anyone."
D.J., Managing Director, DMJ-Imagery Ltd.
---
Project examples
Due to client confidentiality, I am not able to share specific details of many of the books and other projects I have worked on. However, I present below a few case studies that give a flavour of the types of service I provide.
Novella
The author had written a short book of approximately 35,000 words and requested a proofread. The manuscript had not been through former editing rounds, but the author had a budget they had to stick to. I suggested a bespoke service of a proofread for spelling, grammar and punctuation issues, combined with a light edit to address paragraphing, consistency and clarity. I would not carry out any detailed editing, but would highlight any passages that may be unclear to the reader. The work was carried out in Word using the Track Changes facility so the author could accept or reject the amendments made. I also provided a style sheet detailing the editorial decisions taken. The author then proceeded to self-publish.
Middle-grade children's book with black and white illustrations
The author had written and illustrated a middle-grade children's book, for ages 8-11. They requested a copy-edit which they would proofread themselves. We discussed the importance of a professional cover image and the author commissioned an artist to create one. We also discussed the relative merits of different publishing solutions. Once the author had signed off on the copy-edit, I formatted the book, including the cover. I created an Ingram Spark account for the author, uploaded the files and ordered a printed proof copy for the author to make their final checks. A few further amendments were made, then I handed the account over to the author.
Children's picture book
The author had written a picture book for young children and, as well as editing, needed some advice as to how to go forward. We discussed their ambitions for the book and decided that printing through Amazon KDP was the most appropriate solution for this project. I edited the text and sent the amendments to the author for approval. I also made suggestions for page breaks. Once the illustrations and cover were complete, I formatted the book, created a KDP account for the author, uploaded the files and ordered a printed proof to be sent direct to the author so they could make their final checks. Once they were happy, we published, and I handed the account over to the author.
Screenplay
The client had written a screenplay and requested an edit. We agreed that I would carry out a copy-edit for spelling, punctuation and grammar. I would also look for any consistency and continuity issues. Since the story was set several decades ago, my brief also included, as far as possible, fact checking and ensuring that the language used was appropriate for the time period. This project required discussion and communication between the writer and myself to ensure that the dialogue was as authentic as possible and that my suggestions remained in line with the characters.
---
Qualifications
I am a professional member of the Chartered Institute of Editing and Proofreading and have completed their courses in:
Proofreading 1
Proofreading 2
Copyediting 1
Copyediting 2
Introduction to Fiction Editing